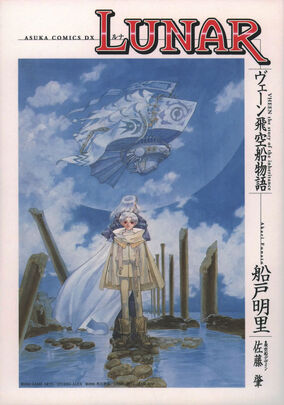 Lunar ヴェーン飛空船物語
(romanized: Lunar - Vheen Hikuusen Monogatari) also known as
Lunar: Tale of the Vane Airship
was published by Asuka Comics DX and was writen and drawned by Akari funato with the help of Hajime Satou designing the airship.
This is a collection of tales of
Dyne
and
Ghaleon
and the Great Inheritance of
Vane
a magical airship, pride of the flying city of Vane. This volume gives a lot of backstory to Ghaleon's earlier years. There are three chapters: the first deals with Ghaleon when he first visits Burg, the second is about Ghaleon and Dyne on their first trip into Vane, and the third is about the construction of the Vane airship. The best-known and arguably the most fascinating Lunar manga.
Complete Series
Edit
Download
[uploaded via Crux Brainchild]

Year: 1998
Length: 1 Volume (3 Chapters)
Categories: Adventure Drama Fantasy Shoujo
Author:Akari Funato
Artist: Akari Funato, Satou Hajime
Publisher: Asuka Comics DX, Gentosha (2009), Kadokawa Shoten (1998)
Serialized in: Fan Dera (Kadokawa)
Scanlator: JMSR. Capowski (JMS) edited by Ezekiel (JMS)

Chapter 1 - The Scenery I Recall
Edit
Chapter 2 - Confession of the Soul
Edit
Chapter 3 - The Memories I Confess
Edit
Epilogue - Kei Shigema's Notes
Edit